I found this
hilarious blog post
regarding Snakes on a Plane. My favorite part of this post:
What else do you need to know? How the snakes get on the plane, what the snakes do once they're on the plane, who puts the snakes on the plane, who is trying to get the snakes off the plane...This is not for you to ponder. There are snakes on the plane. End of fucking story.

In fact, during the two or three days that precedes my phone call with the studio, I become obsessed with the concept. Not as a movie. But as a sort of philosophy. Somnewhere in between "Cest la vie", "Whattya gonna do?" and "Shit happens" falls my new zen koan "Snakes on a Plane".
Also there's this sweet t-shirt that you can buy
here
.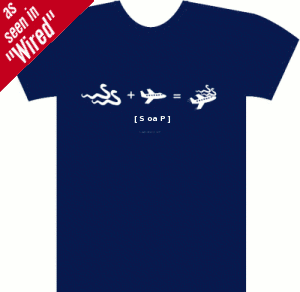 Also, while I'm still on the topic of movies involving serpentine-like creatures. There's a sweet horror film called
Slither
coming out in a few weeks. It stars
Nathan Fillion
who starred as Joss Whedon's Han Solo-esque Captain Mal Reynolds in the brilliant short-lived television Firfely and the subsequent movie that was brought about by raving fans calling themselves browncoats,
Serenity
. Apparently Fillion's role in this movie is similar to that of the Captain, who, as I stated earlier, is similar to Han Solo in personality. The two reviews I've seen were positive and revealed it as extremely tongue-in-cheek...which I like.